Not everyday do you get to look into a child's eyes and see the joy and excitement when you present them with their gifts. It has been a great week everyone. Zachery just turned five and is so proud of how grown up he now is. As for his parents we're just so thankful that we were able to have a celebration with our family. The last couple of years have been hard when it comes to celebrations, not everyone can come or wants to attend, but, knock on wood, everything seems to be going back to normal.
So, birthdays! I love them, my husband loves them (he got a set of LEGOs for his last birthday, and let's just say he went wild*), and our son has just begun to grasp how fun they can be. Last year he just knew that he got to play more than usual and that he got toys, some socks, a terribly ugly pajama from his Aunt (as a gag gift), and he got to eat cake and ice cream (two of his favorite foods, after broccoli, strange I know).
Kiddo's Birthday Party
As I have already mention we had a pretty big celebration this year. Last year for his birthday we only really had my parents, and my mother-in-law flew in for couple of days to visit her sister who lives in the area. My father-in-law wasn't able to come because his company was short handed due some people falling out due to the VID. This year my husband wanted to host a BBQ Birthday, which in other words was his chance to fire up the grill one last time this year and pretend he was in one of those Norman Rockwell paintings. You know, something like this: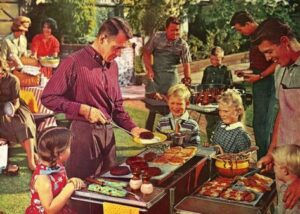 But without the dress shirt, belt and slacks, clean shaven, fifties look that resonates throughout Rockwell's most famous works. My husband has worn kaki shorts, worn t-shirts, and a beard for over a decade now (since June 2010 to be exact). I don't know if I would recognize him if he ever decided to shave. /s 🙄
In total we had about thirty people at our house this year, both the big sort and the small. Zach had a number of his school friends over and his cousins were also here. Our dog was a little over stimulated with so many little hands wanting to pet her, but she got over it pretty quickly. When everybody went home in the afternoon she and our son fell asleep together on the couch. I really wish I had gotten a picture of it. She woke up when I came in the room and there was really only a split second to catch the whole thing. Now that our son is a big boy, this was his fifth birthday after all, I think it will become more difficult to get him to take a nap. After all, naps are for babies and that he is most certainly not!
He loved the gift opening portion of the celebration, even though we coaxed him to open them slowly he tore through the majority of them. It was sweet when he got to the one from my parents. They had some custom gift wrap printed for the occasion, it was basically a photo montage of our family, their photo, and some moments with his cousins. The had it printed through a small company that specializes in such things, but also in other custom and hard to find themes. I intend to use them in the future. The wrapping paper was so cute, I wish I would have had a chance to save it (my sister cleaned the living room when we all went outside for cake and ice cream). The look on his face was priceless when he recognized who was printed on the paper, I think for a moment he thought that that was the gift. But my dad clarified it for him and he ripped it open, more reserved than the others, but still it came off in shreds.
The next morning Zach asked when his next birthday would be. Apparently he thought that it should be coming up again soon. My husband told him he would have to wait another 364 days, 52 weeks, or 12 months. Right now he thinks that that will be around Christmas since he knows he'll get some presents then as well.
It is really a blessing to be able to watch him grow and make new experiences. When they are small it really seems like they are sometimes changing right before your eyes.
Thanks for coming everyone!
Zoey
* As it turns out my husband was a huge fan of LEGO blocks growing up. Every year his grand parents would buy him a big set for Christmas and it just comes with a lot of nostalgia for my darling husband. Since he got his first (new set) some months ago he has bought another half dozen for himself and he and our son have been putting them together as "father son bonding". I guess I can't complain, it has been fun watching them work together on increasingly larger projects. One drawback to the LEGO project has been that they take up quite a lot of room once completed. Our living room feels like a gallery with the shelves and floor, though goggy has left them alone thus far.